What is Public Liability Insurance and why do I need it?
31 May 2017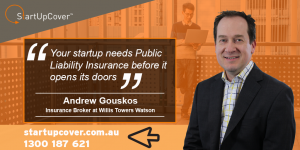 Anyone seeking to operate a business of any kind, including a startup, should have the right level of Public Liability Insurance in place before opening their doors.
Public Liability Insurance is an essential business cover; it was developed to protect business owners and operators from the financial consequences of certain events that can happen in the course of running their business.
If your startup has a potential exposure to property damage and/or personal injury, Public Liability Insurance is mandatory. Indeed, some of your clients may ask you for evidence that you hold this insurance before they'll work with you.
Whilst this is relevant in most industries, it is especially prevalent in the trades and construction industry, where most subcontractors and contractors won't be allowed onto a worksite without providing evidence.

What does Public Liability Insurance cover?
This is where your broker can really be of value, to help you understand what your policy covers you for. Basically it means the company underwriting your Public Liability Policy will pay all the claims and potential costs and expenses by those making a successful claim against you – that, if you weren't insured, you'd be legally required to pay yourself.
The types of events that might result in a claim can come in many different forms:
Damage to your client's or another person's property
Death or bodily injury of your client or other person
Financial loss to your client or other person.
Are you beginning your startup venture? Visit here for an instant free online quote