Insurance made more convenient: StartUpCover launches chatbot
15 September 2017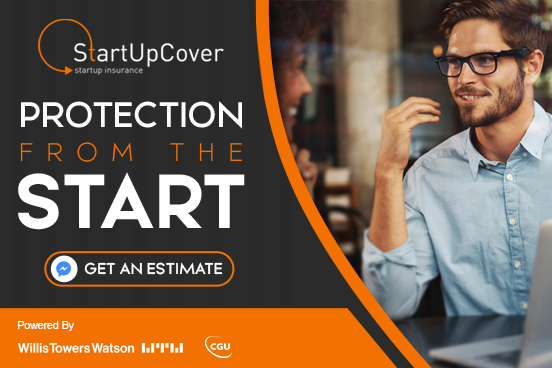 MELBOURNE, September 15: StartUpCover, a joint venture between Willis Towers Watson and CGU, is proud to announce the Australian insurance industry's first Facebook Messenger chatbot specifically designed for startups.
"Jamie" the chatbot goes live today from the StartUpCover Facebook page. It is designed to give startup businesses access to insurance information and an indicative quote within five minutes of messaging, on a 24/7 basis.
Brent Lehmann, General Manager of Affinity & Commercial at Willis Towers Watson commented: "Startups are a very hardworking segment of the business community who ordinarily lack the time during normal working hours to engage with traditional sources of insurance information. We wanted to ensure they had a means of learning and understanding the minimum insurance requirements so that they could protect what they've worked so hard to create.
"By being available instantly and at any time, our chatbot technology can enable a frictionless and familiar way for people within the startup business community to learn about the right insurance products. Just as importantly, this is backed by personalised service where any advanced questions will be followed up by one of our specialist brokers in the StartUpCover team."
The technology has been developed by a startup – Melbourne technology company inGenious AI. Co-founder Andi Chatterton said "Messaging apps like Facebook Messenger have now surpassed social media platforms like Facebook itself and Instagram in terms of active monthly users. We were proud to work with Willis Towers Watson and CGU to build this technology so that startups have a more convenient way to discover what they need to know about insurance when and where they want to, even on the move."
The 2016 Global Mobile Messaging Report, published by US communications company Twilio, showed that 46% of consumers would like to learn about new products through messaging, while 85% of consumers would like to reply to a message from a business or engage in conversation, noting that messaging is not a one-way communication channel.
Further research from the Centre for Generational Kinetics shows 41% of millennials would describe themselves as "truly satisfied" if they could use messaging or SMS to connect with companies where they do business.
When initiating a conversation with the chatbot, users will get instant answers to questions and indicative premiums. The conversation can be paused and resumed at will throughout the day. Willis Towers Watson marketing officer Tim Cotton said it had been tested in co-working spaces with over a dozen startups. "And the feedback has been overwhelmingly positive so far," he said.
"Our research has shown that Facebook is the preferred tool for startups. We wanted to ensure startups could spend as much time as possible on growing their business and our chatbot is designed to offer as much convenience as we can for them to arrange their insurance requirements."
You can access Jamie the StartUpCover chatbot simply by heading to this link or opening the StartUpCover Facebook page and clicking "send a message" on Facebook Messenger. In the Messenger window, click "get started" and follow Jamie's prompts.